Pemain depan San Jose Sharks Evander Kane mengatakan kepada ESPN bahwa tuduhan terhadapnya terkait bertaruh pada permainan yang dia mainkan dan bahkan melemparkan beberapa dari permainan itu sepenuhnya salah, menanggapi laporan oleh istrinya yang terasing.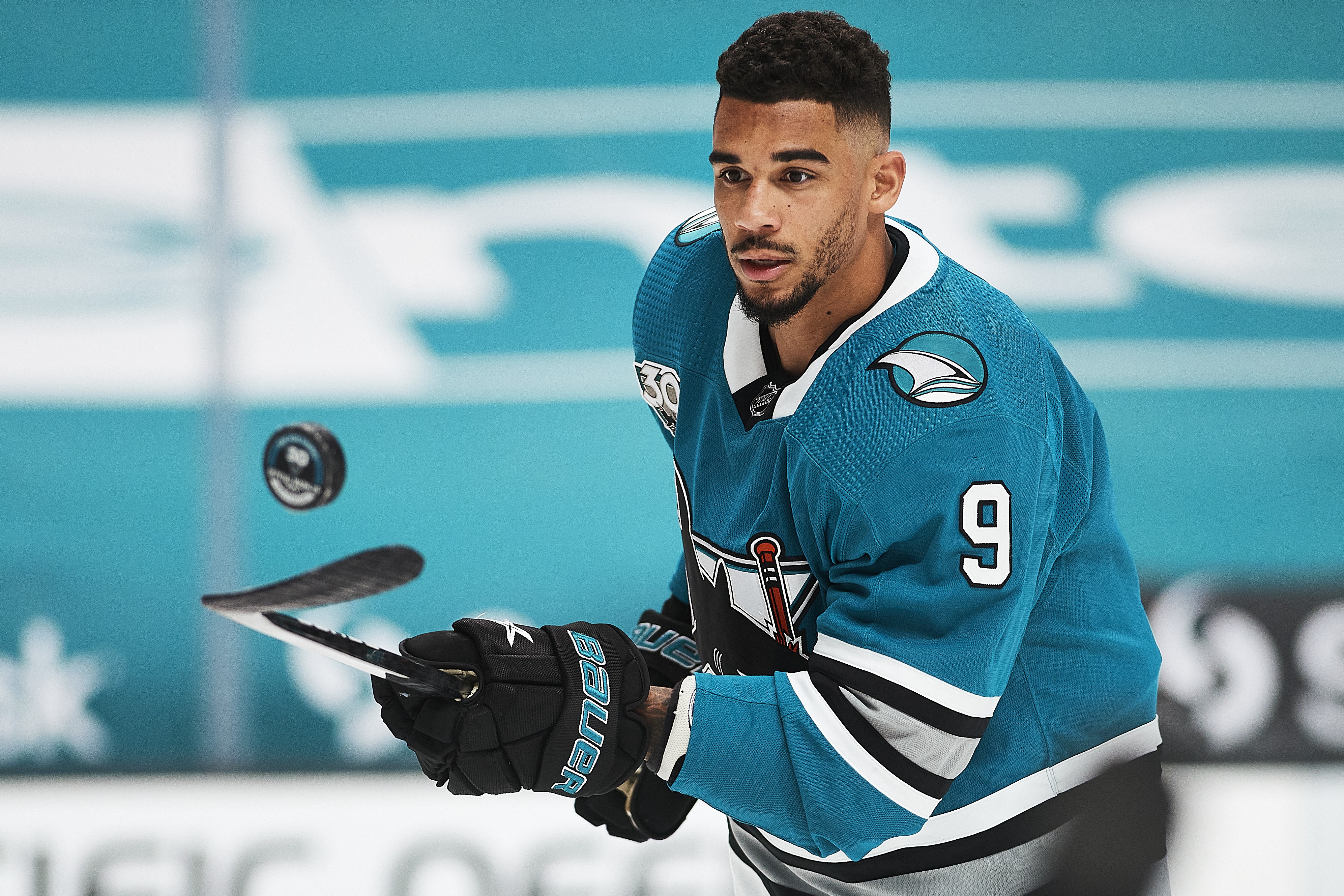 Evander Kane membantah tuduhan bahwa dia bertaruh pada game NHL dan telah membuang game karena perjudiannya. (Gambar: Matt Cohen/Ikon Sportswire/Getty)
Kane membuat komentar kepada Linda Cohn dari ESPN dalam sebuah wawancara yang ditayangkan di SportsCenter pada hari Kamis.
Kane menolak tuduhan istri
Anna Kane menuduh suaminya bertaruh dalam permainan NHL dan "jelas-jelas melempar permainan" di sebuah posting Instagram pada 31 Juli. Dia menyebut Evander Kane seorang pecandu judi, menuduhnya meninggalkannya saat dia hamil anak kedua pasangan itu.
"Bagaimana NHL membiarkan pecandu judi kompulsif masih bermain ketika dia jelas-jelas melempar permainan untuk memenangkan uang?" tulis Anna di salah satu postingan Instagramnya.
Seperti dalam semua olahraga profesional, NHL melarang pemain, pelatih, dan staf lain untuk bertaruh pada permainan dalam liga tersebut. NHL membuka penyelidikan atas tuduhan itu segera setelah Anna Kane membuat kisah Instagram-nya.
Kane membantah keras tuduhan itu dalam wawancaranya dengan Cohn.
"Sayangnya itu terjadi, dan sangat disayangkan bahwa tuduhan palsu itu dibuat," kata Kane. "Aku tahu tidak ada yang dia katakan benar. Saya sangat percaya diri, nyaman dengan mengetahui bahwa saya akan dibebaskan dan saya akan dibebaskan dari tuduhan itu."
Kane menyatakan bahwa dia tidak pernah bertaruh pada permainan NHL atau mengubah cara dia bermain karena alasan perjudian. Namun, pemain berusia 30 tahun itu mengaku berjuang dengan kecanduan judi.
Masalah itu terungkap ketika dia gagal membayar $ 500.000 utang kepada The Cosmopolitan di Las Vegas pada 2019. Sementara kasino akhirnya membatalkan kasus itu pada 2020, sifat publik dari kasus tersebut menambah reputasi buruk Kane.
Sumber: Masalah di luar kantor memperburuk hubungan rekan setim
Polisi di Buffalo menangkap Kane pada tahun 2016, ketika dia diduga menjambak rambut atau leher tiga wanita dalam insiden terpisah pada suatu malam. Dia juga telah mengembangkan reputasi untuk permainan kotor, terutama saat bermain dengan Hiu melawan Vegas Golden Knights.
Kane mengatakan bahwa dia telah melewati masalah perjudiannya, dan bahwa dia telah mencari bantuan profesional untuk menangani masalah tersebut.
"Saya memiliki putri saya. Saya mengajukan kebangkrutan, "kata Kane. "Saya tahu sebagian alasan mengapa saya berada di tempat saya berada, adalah karena perjudian. Saya tidak akan kembali ke titik itu dalam hidup saya. Jadi perjudian tidak bisa terus hidup bersamaku. Dan aku sudah mengerti itu."
Masalah di luar es Kane bisa berdampak pada karir hokinya juga. Pada bulan Agustus, The Athletic melaporkan bahwa banyak pemain ingin Kane keluar dari tim pada akhir musim lalu.
"Orang-orang pergi ke [Sharks general manager Doug Wilson]kantornya sepanjang tahun, mengatakan Kane harus pergi," kata salah satu sumber kepada The Athletic. "Yang akan dikatakan Doug adalah, 'Semua tim memiliki masalah ruang ganti,' yang tidak benar. Bukan tim yang menang, sih."
Kane mengatakan dia tidak akan menanggapi laporan yang tidak jelas tentang rekan satu timnya yang tidak puas.
"Saya tidak benar-benar bereaksi," kata Kane. "Media melakukan apa yang dilakukan media. Anggota media tertentu merasa bahwa mereka memiliki telinga di ruangan itu atau sumber yang tidak dikenal benar-benar tidak berarti apa-apa bagi saya."